Jorja, Claudia, Donna, Melanie, and Melissa Unite!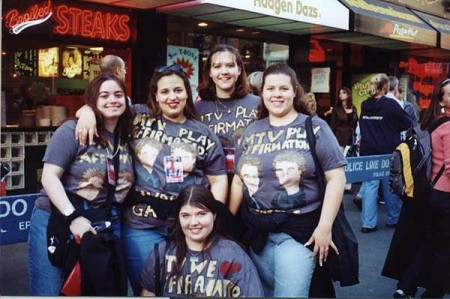 Written by Donna
We(Claudia,Melissa,Jorja,Melanie and me) did Not get inside like we hoped but heck we were there outside by the window in support of our Guys D&D with our (and Melissa made these shirts!!) "MTV PLAY AFFIRMATION" lovely painted pics of D&D under it, then under that 'SAVAGE GARDEN'! And little promo laminated cards I made so..Ok let me start from the beginning my mom,sister,and my sister's friend arrived at TRL about 12:30 and couldn't find anyone until about 1pm and then I found Jorja! Thank God b/c I couldn't find anyone else yet and neither did she so we looked around TRL on both front corners of the block and i thought I heard a faint yell of "Donna" but i didnt see who was calling me then I looked more b/c I heard it again and I saw a girl in line by trl and it was Melanie! I was like thank God! lol so it is me, Jorja and Melanie so far and we knew Claudia was going to get there so we were looking for her and Melissa. The stupid MTV people outside were telling us to MOVE away and not be back in line til 2pm so we had to leave the side and we hung around the front and were told to move and stop blocking the way. Anyway around 1:30pm or 1:45pm we went and got back in line and then we Claudia was with Melissa and they found us and well cut a long story short "only the people with their names on the list will go in bla bla bla". We tried to get inside but they just wouldn't let us in. So I knew my Mom and sister and her friend were waiting in front of the trl window and so we all went there and she held our spots and Claudia, Jorja, Melissa, and Melanie went into one of the restaurants under TRL to put on our SG shirts(that Melanie made:) ) and the SG promo cards I made also. We went back to my mother and as soon as we got there the lady who was giving the bracelets out was dragging a bunch of ppl from the crowd and my sister and her friend were freaking allowed up into the studio to participate in that Jason mask thing. They come down with others and line up behind the barricade and my sisters friend and my sister-red vest (with the Jason masks on) is right next to Claudia! If you watch it you can see all 5 of us!!! I think it shows us about 4 times if you look you can see the writing on the shirts hehe. The whole time people were walking by us and reading the shirts, also I do believe the people in the studio that worked there read them too. I saw them looking and reading. Ohhh and A guy from a NY newspaper (Claudia I forget which one do you know?)anyway he took pics of us with our shirt and all. LOL. I am next to Claudia then Melissa next to me then Melanie then Jorja. We were trying to show the shirts and also I was holding up my card I made and jorja too I think was Melanie too. OK so My sister (red vest-black shirt under it, blonde hair) gets picked to go up into studio and well she was excited hehe OK back to SG LOL so after the show we all take a group picture with our shirts on and I will try to scan them as soon as possible. They all went our to little dinner, but unfortunately couldn't make it :( !!!!

We had to make it to the parking garage (5:30-6pm)before the price went up more hehe and plus I wanted to quickly run to Virgin Megastore to look for imports (where I bought myself the Australian Chained To You CD single! and it came with the mini poster in it!!!! We went got our car and spent a good hour and 45 minutes in NYC traffic UGH! We got home about 10pm. watched TRL and came on here lol I know Claudia and them can all explain it better than me but anyway there is the "skinny" of it.:) Did anyone see us? I hope so. We did get on MTV and more than twice (I think it was like 4 times) and they were actually pretty decent shots(well 3 of them) too. Somewhat. But hey it was all a fun day. Who knows maybe if we got inside then the shirts wouldn't have been shown at all and so maybe it was better being outside right next to the "JASONS" with their masks on lol so if you have the tape look to the right of the screen to see us all in the shirts! I really had fun meeting Melanie and Melissa You guys are so nice. And also great meeting Claudia and Jorja again I gotta love all you guys!




Back To Home Page





Copyright © Mini-Libby Inc. 1999-2000 ALL RIGHTS RESERVED All Backgrounds and Graphics have been created by Mimi for Mini-Libby Inc., and may not be taken off this site. The pics and information have been used with permission when we have been able to get it.